5 Simple Back to School Hacks for the Best Year Yet
In an attempt to be as productive as possible the other day, I ran to Walmart to make a return, buy the toothpaste I meant to get on my last grocery order, get ice cream for my son's birthday party, and do a store pickup of a gift for my nephew.
I had about 45 minutes to drive there, complete the aforementioned tasks, and get back home before my daughter's speech therapist arrived. Did I mention I had two kids with me? Lofty goals, huh?
I'm happy to report that I was successful! But my laser focus was almost derailed by the back-to-school aisle.
You read that right. It's almost time for school again. How can this be? I mean, summer just started. Or maybe I'm just now getting into the groove of summer break. However it happened, I have to start thinking about backpacks, lunchboxes, and schedules again. Eeek!
But before we all panic, there are tons of ways to set your family up for a great school year. And they don't have to take up the little bit of summer we have left. Read on for a few simple hacks to make back to school a breeze!
Return to Back-to-School Bedtimes and Wakeups Before School Starts
I get it. The days are long, the weather is warm, and there are tons of things to do on summer evenings. It is also nice to have more relaxed mornings where the kids sleep in some. But if you wait until the day before school starts to get everyone back on an earlier schedule, you are setting yourself up for failure.
If you start at least a week before the first day with bedtimes and wakeups that mirror the school schedule, your kids (and you!) will be back in the swing of things in no time. This will mean fewer exhausted meltdowns at the end of the day.
As an added bonus, you'll also get a little more kid-free time before bed when you don't have to worry about packing lunches and signing permission slips. Win/win!
Prepare for Packing Lunches
Does anyone else feel like much of parenting is feeding people, planning to feed people, cleaning up after feeding people, and then doing it all again? So the thought of school providing a hot lunch for my kiddo is exciting…in theory.
Let me give you a glimpse into reality:
Me to my son the night before a school day – "They are having baked chicken, vegetable choice, roll, and fruit for lunch tomorrow. Do you want that or for me to pack you something?"
My son – "I'll eat that! I don't need to take a lunch." Small internal celebration by me!
The first thing my kid says to me after school the next day – "Mom, I'm STARVING! Can we get a snack on the way home? I. can't. wait!!!!!!!"
Me, knowing we live five minutes from the school – "We'll get something at home. Didn't you eat your lunch?"
The kiddo, adamantly – "Yes! I had a cucumber slice and ate ALL of my cookie!"
In other words, I just wasted almost $3 and my kid ate one bite of produce and something with chocolate chips. Awesome.
For the most part now, I've learned that packing his lunch is the best way to save money and ensure that he has healthy options he'll actually eat. To make this as simple as possible for me, we have a bento-style lunch container that we pack the night before. With the addition of an ice pack the next morning, he's good to go!
My favorite lunch box is the Bentgo. We have two and have used them for years now. They are leak-proof and only require my son to open one thing to see all his choice, making him more likely to eat something from each section.
The inside tray is dishwasher safe and the only downside is that you have to hand wash the case to ensure the seal works properly. But since my husband does the dishes, that doesn't bother me at all!
We also bought the OmieBox which allows me to pack a hot option in addition to the cold stuff. This is great for packing leftovers but requires me to heat up stuff before school, so I have to plan for an extra few minutes. But it is great if you want to pack both hot and cold items in a bento-style box at the same time.
Both of these options fit in the L.L. Bean lunchbox we've had forever with a flat ice pack. I usually pack them while cooking dinner the night before so that I don't have to worry about anything the next morning (unless doing a warm leftover in the OmieBox). This greatly reduces stress when trying to get out the door.
If you need back-to-school name labels to ensure everything makes it back to your home, check out Mabel's Labels. They have free shipping in the US and are super cute!
Have a Designated Area for Backpacks, Jackets, etc.
I love houses with a nice bench and cubbies for each family member near their door! They are so cute and organized. I would scour Pinterest for all kinds of ideas (like these from House Updated or this one from Style Me Pretty), but somehow all I had is a sad, overflowing canvas bin by our changing table.
Sometime in the middle of last school year, I decided that I was going to forget about my dreams of Pinterest perfection. I had no area for a pretty bench. If I hung shelves I would only be adding something to bang my head on in the narrow hallway. And if I waited for the time and money for another solution, my kindergartener might be graduating high school.
So I bought three white hooks, put them in studs in the hallway by the garage, and hung up the stuff. Now jackets, backpacks, and even my purse are neatly accessible on the wall as soon as we enter the house. Keeping up with school items is so much easier this way.
I definitely would like to make it prettier at some point, but right now it is functional because my kid will use it. This proves that you don't have to spend much or do a lot to start the year off more organized.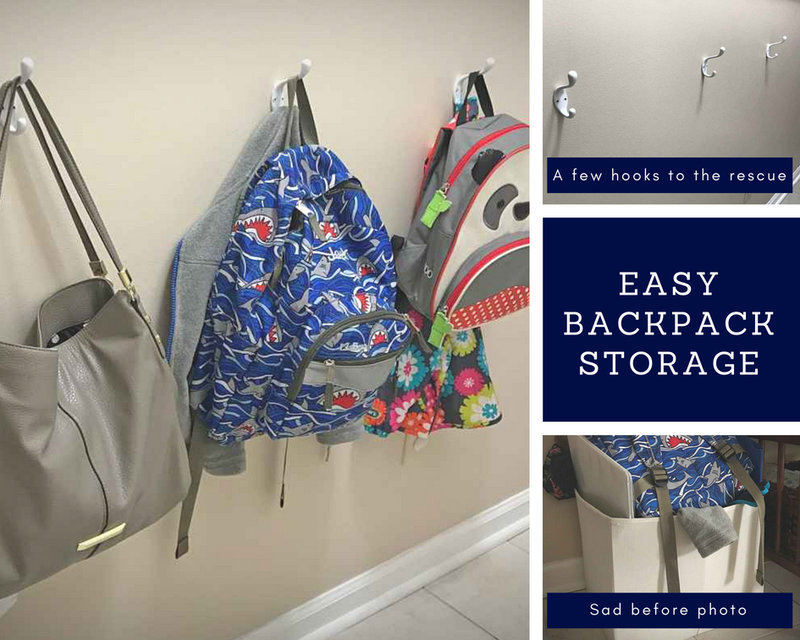 Get Back-to-School Supplies That Will Last
You know what is worse than buying a big bunch of school supplies at the beginning of the year? Buying them again and again because your kid broke/used up/lost/bartered the items you so carefully selected for them!
To avoid this, buy products that are going to last. My son's school has recommended brands for items on the back-to-school supply list because they know what works and doesn't in a classroom setting. I also asked my sister, an elementary school teacher, what she hopes to have in the classroom. Below is a list of the BEST school supplies to purchase this year.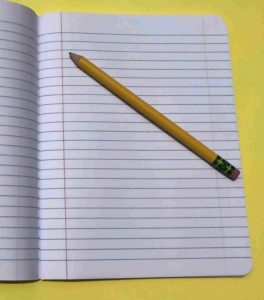 Ticonderoga Pencils
I'll be honest and say that I could not believe that a pencil brand mattered. But time after time, Ticonderoga pencils are preferred.
My son's school loves them so much that the PTA bought them for every kid in every grade for the fall! My teacher sister said she really likes the pre-sharpened ones because they are ready to go right out of the box. When my son was younger, his teachers requested the My First Ticonderoga pencils that are thicker for easy grip by little hands.
These are much more sturdy than the pop-a-point pencils that I thought were so cool in elementary school!
Expo Dry Erase Markers
This was the first thing out of my sister's mouth when I asked what school supplies she wanted most in the classroom. Expo markers are also something my son talked about running out of last year. When I see these appear on back-to-school supply lists, I thought that the teacher was the only one who used them. But my kiddo quickly corrected me saying they used them frequently on individual whiteboards for all kinds of things. Who knew?
The black, low-odor ones are a favorite, but they also come in assorted colors and sizes.
Crayola Crayons and Markers
As a child, I used to beg my mom to upgrade me to a 64-pack of Crayola crayons with the sharpener. That slightly sweet, wax and cardboard smell takes me back to my elementary school days faster than anything.
While your child probably doesn't need eight different shades of yellow in their box, Crayola is still head and shoulders above the competition when it comes to crayons and markers. Don't be the one to send your kid with the cheap crayons. They just end up broken at the bottom of the bin, and no one wants that.
Better yet, become the new best friend of your child's teacher by sending in a classroom pack of crayons or markers. These make my inner nerd so giddy!
Fiskars Scissors
I just looked at the back-to-school supply lists for kindergarten through third grade at my son's school and each one of them listed Fiskars scissors specifically. This teacher favorite comes in blunt and pointed tips. And don't forget the lefties!
Germ Killers
Listen, kids are gross. They are going to be sneezing, coughing, and who knows what else all over everything and everyone. It is in your own best interest to send in as much hand sanitizer and disinfecting wipes as you can get. Get some now, then get it again at Christmas break. And again for Valentine's Day. Maybe for St. Patrick's Day, too.
With all the back-to-school sales, you can get good deals on just about everything right now. Don't waste your money on subpar supplies. If you have the ability, consider picking up a few extras to donate to your child's classroom. There are always families who can't get everything on the list and you know teachers are picking up the slack out of their own pocket.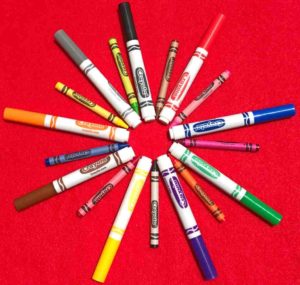 Take a Cute First Day of School Photo
There are pretty much two days that all kids get excited about school – the first day and the last day (get a head start on the end of school with my 3 Easy Last Day of School Traditions)!
In my mind, if I capture the first day smiles in new clothes, then I don't have to worry about the fact that I don't care if they match or if their shoes have changed to a mulchy brown shade by the end of the year. It will appear as if I made sure my kids wore matching clothes and cleaned their face before school so that all the other days won't count. Mom of the year right here!
Anyway, if you are like me, you decide the night before school starts that you need a sign for them to hold for the picture the next morning and start searching for something to use. Never fear! I have a FREE PRINTABLE First Day of School sign just for you!
This sign is for those of us who love the idea of a cute chalkboard sign but don't actually have the fancy calligraphy skills to make it look beautiful. Simply print this sign, write their grade and teacher, and you are set!
If you don't have an easy way to write on the dark background, you have several options. The best way is to get a good gel pen like the Sakura Gelly Roll Classic. But in a pinch, you can use actual chalk, a pigmented colored pencil, a paint pen, print on white paper and tape it on, or frame the sign and write on the glass. There are lots of possibilities!
Those weren't so bad, right? With a few simple steps, your school year can start off on the right foot. I'd love to hear any other ideas you have in the comments below!